A business management system (BMS) or company management system captures the processes and procedures that you use to run your company. From how you create and deliver products and services to customers to your financial control, a good BMS should give you clear oversight of your entire operation.
But if your BMS is static and underwhelming, it won't be used or useful.
We believe the perfect company management system should be:
Dynamic and interactive - not static
Graphical - not text-heavy manuals
Easy to access, use and maintain
Useful and used
Owned by the people who own the processes
Your BMS as a set of interactive web pages
Cognidox has set out to build the most useful business management system possible. We make it possible for any size company to develop an enterprise-wide, web-based tool. We take static diagrams and turn them into visual, interactive, and dynamic web pages that employees can use with all mainstream browsers.
Built on our Lean DMS platform, the Cognidox BMS lets you develop a company-wide intranet that captures how your company creates and delivers products or services to your customers.
The system is so easy that non-programmers can create a web-based BMS for procedures and flow chart diagrams using familiar tools (e.g. Microsoft Visio, Word, Excel). No HTML, JavaScript or CSS skills are required.
Visual processes are better for employees
It is easier to understand complex procedures for development, procurement, manufacturing and quality control when they are visual. By diagramming the steps and processes in each of your business procedures, employees can follow the steps accurately, and training in new procedures is easier.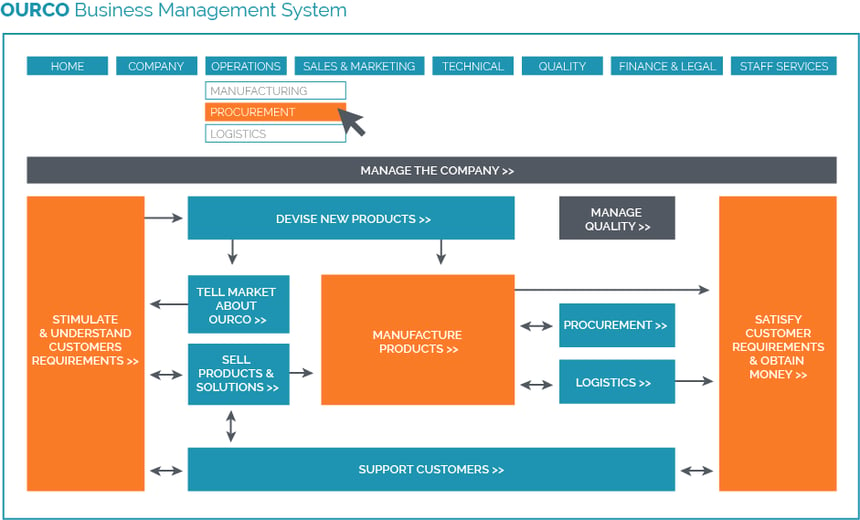 The company can identify issues such as too much complexity or process flow bottlenecks. And compliance with regulatory standards is easier to prove. Something which was instrumental in helping one of our clients achieve ISO certification in just 90 days.
With the Cognidox BMS the process diagrams can be augmented with links to all sorts of useful content: document templates, more detailed instructions, forms to fill in, pop-up help text, or training videos.
A BMS supports a risk-based approach
Your business management system can help support a risk-based approach to quality processes.
By clearly defining and visually presenting the processes, and making these easily available to the workforce, you greatly reduce the chance of errors, accidents and non-conformance behaviour. Visually accessible processes means each member of the team is more likely to understand their responsibilities as part of the wider project, resulting in more efficient and effective produce development.
To achieve a risk-based approach in quality processes, adopt the following actions:
Identify the risk
Define the likelihood of the risk
Define the consequences of the risk
Define the level of the risk
Mitigate the risk by visually representing the correct processes
Make these processes readily available to the entire workforce