Approvals & FDA compliant e-signatures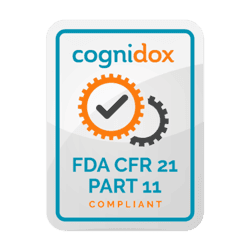 Cognidox provides highly flexible approval rules. Users can set up approvers based on categories, document types, or just individual documents. Single or multiple approvers can be established from a pre-defined group. 'Document holders' within the system allow whole sets of documents to require approval before release, supporting phase-gated development projects.
Users can approve documents using electronic signatures that meet the rigorous authentication standards of FDA CFR 21 part 11. E-signatures are fully integrated into the Cognidox system and do not rely on expensive third-party plug ins.
DocuSign integration
In addition to our integrated e-signatures, Cognidox also provides fully featured 'send to DocuSign' functionality. This is great for contract management or in cases where you do not wish to use the inbuilt Cognidox functionality to sign off documents.
You can configure DocuSign signing envelopes directly in Cognidox providing email addresses for the external signatories required. When you 'Send to DocuSign' from Cognidox the signed document will automatically be captured in Cognidox when the process is complete.
Notifications
You can create flexible, user-based notification filters. Automated email reminders can be set up to alert user when document reviews are overdue, provide weekly reminders of outstanding tasks, and more.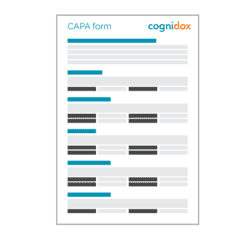 Forms and templates
Administrators can create HTML forms that can be assigned to categories. Cognidox comes with templates for non-conformance and CAPA forms that you can easily adapt and customise to meet your specific needs.
Forms can consist of any number of administrator-defined fields and rights to create a form can be defined. Users filling in a form will create a new document in the form category.
You can easily create new documents of all types from company-wide or category-specific templates.
Microsoft Office add-in

Use the Microsoft Office add-in to browse, open and save work directly from Outlook, Word, PowerPoint and Excel. Clone or compare Word documents to save time and see differences between documents 'at a glance'.
This add-in allows users to work with Cognidox directly from their own favourite desktop tools without having to visit the web interface. Great for user adoption and efficient personal workflows.
Pre-filtering of Office files
Pre-filtering of MS Office files will change both the document properties and the values embedded in the visible document, without requiring a macro or update to change the fields. Mark your document Draft, Approved, include the document part number, etc.
Enterprise search
Our lean DMS offers an enterprise search platform for relevance-based full-text search. Users can also search by meta-data and document attributes - perfect for document locate-ability.
Document analytics
Track internal usage of files, with stats around access and download. Cognidox can also provides comprehensive overview of workers' acknowledgement of critical policies and procedures via dashboard matrices to help ensure compliance with training requirements.
Security and access control
Security profiles applied to document sets or to categories provide very fine-grained control over who can see documents, and what further rights they have to change them. Cognidox helps you meet the rigorous access control and data security requirements of ISO 13485 and ISO 27001.