SkyDrive is Microsoft's revamped cloud service for collaborative document writing. It compares and competes pretty directly with Google Docs, in that you use it to author documents; and that makes both of them different from the various cloud-based document sharing sites. You need a Microsoft account (formerly "Windows Live ID") to try it, but hey who hasn't got an old Hotmail login lying around from 2001? I'm joking of course; it too has undergone a recent big makeover.
Google Docs has had a good share of my time when people have sent me links to documents. Mostly it's been fine. Larger documents can be an issue sometimes. Often there are formatting issues when the file comes from e.g. PowerPoint 2010 and it is converted to the corresponding Google Docs format. To get something looking right often takes a couple of extra steps. Given that so many people start their work in Microsoft Office (or it needs to end up there), this can be a pain. But it's true that it's getting better all the time where format fidelity is concerned.
Both SkyDrive and Google Docs have the same purpose. You and other collaborators can work on a document at the same time because the file is stored in the cloud rather than on anyone's hard drive.
One of the nice features of SkyDrive is that in addition to reading and editing e.g. a Word file in your browser using a scaled down tool called the Word Web App, you can opt to open the file into Word on your computer.
If you download the file into Word from SkyDrive and make local changes it will save the file back to the cloud service. So people can work online in the browser or offline in Word and all their changes will be synchronised - in the case of offline users that happens when they connect again.
Book a free demo of the Cognidox Document Management System
And now that Google Docs is morphing into Google Drive, it can do something similar. You can't do the open in Word / PowerPoint / Excel feature. Instead, you have to download it and re-upload any changed version manually.
Now, you might think because SkyDrive or Google Drive provide online document file sharing they are alternatives to CogniDox as a document management system. When we demo CogniDox or train new users they sometimes tell us that their "previous company used Google Docs for that". There's clearly room for confusion.
But there is a scenario that shows CogniDox working in tandem.
Imagine I'm working on a shared document with people outside my company. It could be a new marketing brochure and I'm getting assistance on writing it from an external consultant. We need to work on the document together so we create or upload it on SkyDrive. But I also want to keep my co-workers informed on progress of the document and may ask them to review it at critical stages. I certainly want to get it approved by the Head of Marketing when it's done.
One way is to create a document part in CogniDox. When I then create a draft or issue there is an option to use a URL rather than upload a file into CogniDox. This is what it looks like:

As you can see, all I need to do is cut & paste the URL of my SkyDrive document into the remote URL field on the CogniDox page. I have all the usual options at that point (e.g. to ask for a review) or I can confirm using the Add Draft or Add Issue button. [Note: permission to add remote URLs is controlled by a user right and by document type – rights assigned by an Admin]
The document details page then looks like this: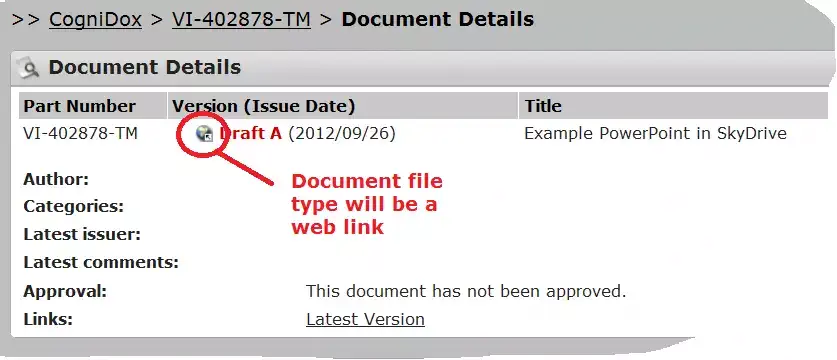 When I click on the web link, a new window or tab takes me to the document in SkyDrive. There, I (and my co-editor) can make changes in the way described above.
There are limitations. I have to manually create new versions to indicate when I'm up-issuing a draft and that's a matter of judgement. Typically there would be lots of minor changes (versions) in the SkyDrive file and when those changes are significant enough I'll update my co-workers via a CogniDox new version. The link remains the same.
But I do have all the review and approval workflow options available to me as CogniDox actions. The fact that I'm working on this is in the company DMS, and the version history (including review comments) will become part of our plan of record should an external Auditor ask for proof of it.
Another thing you can do is this: when you open the SkyDrive file into Word, Excel or PowerPoint you can use the CogniDox Office add-in to save that file back into the CogniDox repository. This would make sense at the end of your joint-authoring, when perhaps you'd prefer to have the brochure document on your server and delete the copy on SkyDrive. You can go on to publish the brochure using the CogniDox licensing and publishing features.
I also think this example makes another point: a lot of web applications claim support for "document management" when really they support file sharing. For me, document management requires at least the workflow and auditability extras that I've discussed in this example.