Issuing a tech product release or a software update can be a challenging process. Handled badly it can result in confused and frustrated clients while creating needless internal stress. But choosing the right extranet solution can help you achieve more seamless, successful and repeatable product rollouts to a higher level of customer satisfaction.
The stress of a new product release
Releasing new products and software is often a fraught moment for a company. According to data from the Enterprise Management Associates, 75% of all adverse incidents are the result of changes in software and the environment. But getting to grips with the release management process can help you mitigate against these kind of incidents, reducing misunderstandings and mistakes, while raising customer confidence in your products and your company.
Why Release Management is a complex process
It can be difficult keeping track of new product delivery and deployment when you're dealing with multiple organisations and the individual customers within them, particularly when they all might require different combinations of access to hardware, software, and associated documentation.
Without the right digital tools it can be a complex job notifying and supplying each individual with the documents they need for installation in a secure and error-free way.
Sending out emails with attachments and links to download documents directly from your server or chosen file sharing platform, is potentially insecure and a difficult process to track and audit - it can also look and feel unprofessional for the recipient.
What does the right extranet solution look like?
The right extranet solution will allow you to create secure, closed digital workspaces to which you can publish material for specific individuals to access and download, while automatically sending notifications to designated licensees and tracking subsequent download activity.
So, what exactly does the right extranet solution look like for a business that needs to securely, share bulky files of all kinds as part of their regular product release management cycle?
Here are eight vital functions and features that the right extranet solution will bring to your company:
1. It must be secure.This goes without saying. You can't give customers (some of whom might even be competitors) direct access to your servers or file sharing platform. This could risk giving them access to yours or other client's confidential documentation. The closed workspace of an extranet can give you the assurance that only the documents you need and want to share can be reviewed and downloaded by specific individuals.
2.Publishing tools must be accessible and easy to use even by non-coders. The right extranet solution should operate like a publishing platform, with user-friendly instructions for non-coders to 'publish' documents for licensees to download and deploy. You don't want to tie-up developer resource in managing what should be a standard and easily repeatable release process.

3.Must allow controlled downloads of documents by customers. The extranet should allow you to publish the right material and make it available to different users with potentially different requirements. The right extranet solution should also provide powerful, fine grained control over what is seen and by whom. For example:
Provide explicit control over what category hierarchy individuals can see
Make it clear to internal users exactly what each customer can see
Allow for different internal and external product labelling and naming conventions
Fig 1: How granular publishing with an extranet can support product release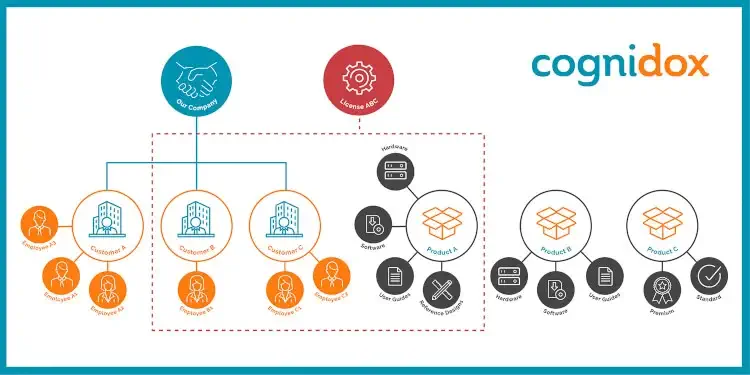 4. Must support all digital document types as downloads. Besides simply sending the build out into production, the deployment stage often includes messaging and education about the product for end users. A package of documents that need to be published and downloaded by your users may include software, release notes, user manuals, reference designs and instructional videos - customers may need access to all of these via your extranet.

5. Must keep customers informed of changes through email and web pages. If a product rollout is to be successful clear and consistent messaging should be part of the plan, Show clients the features and benefits of a new release and giving them precise instructions about how to download and deploy. Automated notifications and updateable web page messaging will be a vital part of this process.

6. Must allow multiple users per customer. A product release mechanism needs to be able to send out notifications and support downloads by potentially hundreds of individuals within an organisation.


7. Must provide an audit trail indicating who sent a document to the extranet, together with who downloaded what on the client side and when. Apart from being able to ensure that the rollout has been successful, this can help you offer more proactive customer support. In the long term having this kind of detail at your disposal can help you better plan future rollouts, refining the timing and content of your messaging to optimise effectiveness.

8. Must be able to guarantee the final, approved document from your internal Document Management (DMS) is the same one that is shared with your clients. No need to move, copy or paste a document from your DMS before you send it to end users; the right extranet solution should let you publish your final approved content directly onto the platform for download. In this way, publication becomes a natural part of the wider product development process – making 'release' its final stage.

9 .Must have company branding. A simple but an important point. Your extranet solution needs to be customised with your branding so that clients can be confident they are downloading documents from a reliable source. The process needs to look as professional and seamless as possible to retain the confidence and trust of your customers.


The right extranet solution can help you operate a seamless and easily repeatable release management process for a whole range of products. It can reduce client confusion by sending them links to locations where they can find only the relevant, clearly labelled files they need, as well as any supporting documentation necessary for them to deploy the new solution.

An extranet can reduce the risk of mistakes happening within a release cycle, bring more efficiency to your processes, and make end-user error much less likely.