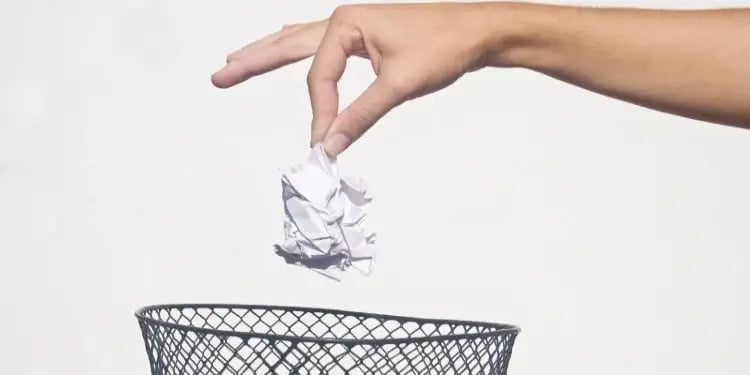 The case for ditching paper-based QMS (Quality Management Systems) can seem like a no-brainer. But faced with a choice between risking an improvised DropBox solution or committing to an expensive, 'full-blown' eQMS many medical device developers simply put off taking the leap. What's holding you back from binning the paper?
4 challenges in moving your quality system from paper to digital
1. Choosing your approach - to DIY or not DIY
Should you use a DIY approach to building your digital Quality Management System? Using a mix of Dropbox, DocuSign and email can seem like a straightforward and cost-effective way to streamline your operations, improve collaboration and pick up the pace of your development.
But the challenge of implementing required document controls and creating FDA and ISO compliant workflows without using dedicated QMS tools, can quickly become apparent.
Using this approach, you'll be constantly figuring out workarounds and applying patches to gaps in your process that you've overlooked or have been thrown up by new regulation. If you're splitting your system across various platforms, it'll be hard to index and structure effectively for search and audit. A messy digital auditing process may be no better or faster than a paper-based one.
And then there's FDA 21 CFR Part 11 to consider.
2. Meeting the demands of 21 CFR Part 11
If you decide to digitise your system using tools like Google Drive and DocuSign, you may struggle to meet the specific requirements for digital quality systems laid out in Part 11. If you're just using a DocuSign plug-in it will prove very difficult to capture the history and meaning of each approval event in the way required by the MHRA or FDA. And if you can't effectively integrate e-signatures into your process, then what's the point of migrating to a digital solution at all?
3. Choosing a 'full blown' med dev eQMS system
So, what about installing a proprietary eQMS system, instead? For those businesses who are ditching paper and scaling up fast, choosing a 'full blown' quality system like those used by large global, corporations can seem like a way of guaranteeing ongoing compliance with complex regulations. But it can also quickly begin to seem like overkill.
Many proprietary eQMS can be highly prescriptive in the way they work. These vendors may be offering you 'turn-key' solutions for ISO 13485 compliance, based on you following their 'canned SOPs' to the letter. These 'one size fits all' SOPs may, technically, be compliant, but they may not reflect exactly what the regulation requires and be over the top for what you need to achieve. If you choose these options, you may end up having to completely change the way you work and retrain your team for no good reason. Faced with this, no wonder many teams conclude they should stick with their paper-based approach even with all its inefficiencies.
4. The cost
As you look around at the different eQMS solutions on the market, there's a huge variation in price points on offer. From PAYG models that are billed monthly and by seat, to products with a big yearly license fee and a hefty upfront configuration charge. Entry level costs for some medical device eQMS can be $20K+ - with a minimum three-year commitment.
The most expensive solutions might come with all the quality management features you could ever need - but they can also bring with them huge complexity and cost.
Some eQMS providers will ask you to pay for a pre-market version of their software and then crank up prices for access to their post-market version after you launch. What's more, they can make you pay extra for training and account management services.
All this, along with cost for extra seats, digital storage and required new modules, can make a reasonable looking deal quickly escalate in price. Paper may be slow, but the risk of delays, disruption and unexpected costs while you're implementing an eQMS can prevent you from moving on.
Go Lean with an eDMS instead
But choosing a more flexible approach can save you from 'death by paper' (or Google Drive) - while avoiding the straitjacket and expense of a traditional eQMS.
Selecting an Electronic Document Management System (eDMS) can help you take a lean approach to ISO 13485 and FDA compliance. It can help you rapidly move away from paper, taking control of your digital documentation without requiring months of implementation or demanding you completely change the way you work to get there.
Instead of adapting your process to one-size fits SOPs, a flexible eDMS lets you set up the most efficient and effective workflows for your business. Instead of having to work in ways that your vendor demands, you can use the full set of document controls (including compliant e-signatures) to automate your review, change and approval sequences to meet the regulation in ways that make sense for you.
A LEAN eDMS can liberate you from having to organise vast amounts of paper documentation, while stopping the danger of 'over processing' inherent in adopting a 'full blown eQMS'.
What you really need for ISO 13485 and FDA compliance
Companies who are deep into the development process of their first product don't need the same level of digital document controls in place as a global company with multiple products in their portfolio. And they don't need the massive price tags of an eQMS. But they do need to upgrade from paper to digital systems to:
Speed up review and approval processes
Collaborate more effectively
Automate review processes
Reduce the risk of mistakes and omissions in their process
A LEAN eDMS is a digital framework for ISO 13485 and FDA compliance, it can give you all the tools you need to direct and control your people, while all the time generating and maintaining the right documentation and audit trails that prove to regulators you have done what is required.
It can ensure that you're neither doing 'too much' or 'too little' to meet the regulation, but keep you focused on developing your product in the most effective way possible to deliver the required quality for your customers.