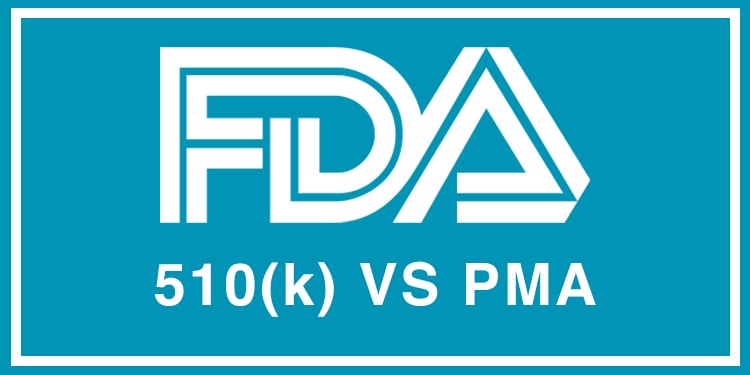 How can medical device developers gain FDA approval for their devices and permission to sell their product into the US market? How does FDA device classification work and what impact can it have on the timings and complexity of the compliance process?
What's the difference between a 510K vs PMA?
510(k) clearance is authorisation from the FDA to market a medium-risk medical device, while PMA (premarket approval) is required for more high-risk and novel products. PMA submissions typically take longer to secure and require more evidence such as clinical trial data, to prove that a device is safe and effective for its intended users.

How does the FDA classification of devices work?
As in the EU, the FDA classification of devices is decided by the level of risk posed by the device to its users. This determines the type and length of the compliance and auditing processes that developers must go through for their permission and approval to launch.

Clas

s 1

Class 1 devices (such as toothbrushes) typically do not require FDA approval, but manufacturers must self-certify, registering their company and device on the FDA website before they launch. This process of registration typically takes between 30 and 90 days.
Class 2
These devices are deemed to be higher risk than Class 1. The FDA says these are "devices for which general controls are insufficient to provide reasonable assurance of the safety and effectiveness of the device'.
Class 2 devices include:
Catheters
Pregnancy tests
Blood Pressure Cuffs
Blood transfusion appliances
Surgical Gloves
Contact lenses
Syringes
Absorbable Sutures
Obtaining authorisation to market Class 2 medical devices
Where equivalent devices are already on the market, developers can submit a 510(k) premarket notification to gain authorisation to sell their product, rather than going through the more demanding PMA (Premarket approval) submission. Most Class 2 devices will sit in this category, although there are exceptions.
The 510(k) involves making a complex application to the FDA, which evidences that a device is safe and effective by showing its 'substantial equivalence' to another device already on the market (known as a predicate).
Submissions are made through the FDA website and require you to assemble and share documentation in a highly structured way. This documentation includes:
Detailed device description
Labelling information,
Discussion of substantial equivalence to your predicate
Supporting data from performance testing.
For more detail on this process, read our blog post on getting your 510(k) submission right first time.
Once a submission has been successful, the FDA will issue you with a 510(k) clearance letter and post it on their website. The website posting is your official proof that your device was cleared by the FDA and is your authorisation to go to market.
Class 3
Class 3 devices are high risk and, often, entirely novel devices. Because of the unique level of risk they present to consumers, they require full Premarket Approval (PMA) rather than just authorisation from the FDA.
Devices in this category are defined by the regulation as those that: "sustain or support life, are implanted or present a potential unreasonable risk of illness or injury." Only 10% of devices fall into the Class 3 category and they include products such as:
Pacemakers
Breast implants
Defibrillators
Ventilators
Foetal blood sampling monitors
Implanted prosthetics
Obtaining Premarket Approval from the FDA
A PMA requires you to assemble and share a greater range of detailed data and documentation than the 510(k), as well as participate in a pre-approval audit of your facility and Quality Management System with the FDA .
Required documentation to share includes:
Detailed information/data about the device's safety and effectiveness;
Description of the device, including its components, properties, and operating principles;
Description of the device's design and manufacturing processes
Results of non-clinical trials (including bench/animal testing);
Results of any clinical studies;
Proposed professional and patient labelling
A summary of safety and effectiveness data
The PMA process can take between 9 and 36 months before approval is granted, and with the addition of required clinical studies, it may take several years before a product is approved.
Post-market compliance requirements for Class 2 and 3 devices
But compliance requirements do not end there as routine inspections of your facility and QMS are a legal requirement every 2 years for class II and class III device manufacturers. Failures in quality processes detected here often result in warning letters and remediation orders from the regulator.
What do you need for a successful FDA submission?
Both 510(k) and PMA processes require complete control over complex and evolving sets of documentation over long periods of time. The 510(k) process may be less time-consuming, but it still demands a high level of governance to be in place as you develop and document your project.
Both approaches to the FDA require you to have a Quality Management System (QMS) in place to ensure the integrity of your data and traceability of decision-making throughout your design and development process. They require you to give access to the FDA to your systems and audit documentation easily and on demand.
To achieve this, you will really need a digital QMS that automatically:
Only with these tools in place will you have a chance of meeting the submission requirements for the FDA 510(k) or PMA submission.
And if this is the first time you've gone to market in the US, don't underestimate the support you'll need to correctly generate and submit your approval paperwork at the end of the process.
Developers who have gone through the FDA submission process in the past, recommend appointing an expert consultant to work with you, not only as you prepare your submission to the FDA - but as you select and build your eQMS in the first place. Using a consultant early on in your process will ensure you choose a system that's right-sized to your needs and will help you generate the right documentation for your 510(k) or PMA submission later on.
Medical device development timelines are lengthy; risks and costs can mount up considerably over time. Regardless of whether you're developing a Class 2 or 3 medical device, you need to establish a digital Quality Management System early on. The right QMS won't bog you down with red tape, but will help ensure a frictionless FDA submission when the time comes.