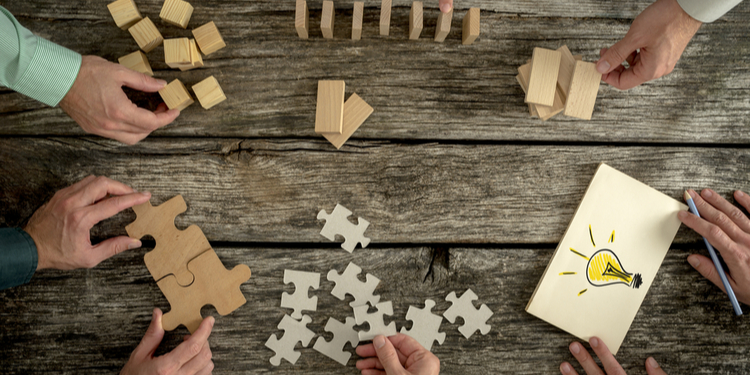 The medical device development process is often broken down by experts into five distinct phases which all require different levels of planning, documentation and collaboration between teams (both inside and outside a business), to be navigated successfully.
Understanding how the five phases relate to each other and how their outputs can be stored, shared and controlled by using the right Quality Management tools, can help businesses determine the feasibility of projects much more quickly and bring their product to market with greater success.
We would argue that implementing a proper Document Management System (DMS) early on in the process can help you establish the framework for Quality Management that delivers the design and document controls as well as the phase gating and risk management features that the regulation requires.
What are the 5 phases of medical device development?
Phase 1: Initial ideation and risk analysis
This first phase of medical device development includes initial ideation followed by crucial elements of opportunity and risk analysis that will determine whether you can and should proceed to the next phase. These include:
Defining what the product is going to do and what its USP will be. This is about defining product market fit. Is there a sufficient demand and differentiation within your proposed product to make it worth pursuing?
Which markets are you likely to be developing your product for? What are regulatory demands you will need to adhere to, what classification is the product likely to fall into? This is important since it will determine the likely time and expense you will incur in bringing the product to market.
Are there similar products to the one you're thinking about developing already on the market, which will make getting regulatory approval quicker and reduce clinical trial requirements?
Once you are convinced that your device has a market position, is viable and financially feasible, then you can move to the next stage.
Phase 2: Conceptualisation and feasibility
In this phase more formal risk assessment, regulatory and customer requirements gathering takes place with initial prototyping to act as proof of concept for another stop/go review before continuing with the project..
You need to start documenting customer needs, taking feedback via surveys and research with patients and clinicians. This will all be supplemented by competitor analysis as well as market research to inform your planning and designs.
These customer needs will inform the initial design and development work that aids conceptualisation and proof of concept via prototyping of all or part of a conceived product.
This process needs to be done iteratively through a cycle of design, development and review.
At the end of this phase you will know if the concept is feasible, that it can be translated into a product that can be manufactured for practical use in the market, while meeting customer needs in a way that improves on existing solutions .
Phase 3 - Design and development - Verification and validation
Now you have proof of concept, this phase is about final design and development of a product that meets all the regulatory requirements.
Regulatory documentation is assembled as part of required design inputs.
Formal risk analysis requirements feed into this phase of design and, indeed the whole process should continue to be governed by design control processes which are outlined in ISO 13485 and elsewhere.
User requirements are further gathered and turned into a User Requirements Specifications document (URS)
Engineering Design Specifications are then developed through an iterative process, which leads to the creation of a complete set of designs
Those designs need to be verified against the EDS before the product is built, and then the physical product itself needs to be validated against the user requirements (URS).
Throughout this stage a constant process of planning, design, review and approval needs to take place that will create an auditable trail of the steps you have taken to reduce risk of failure and harm to the end user.
If you had determined earlier that you needed Clinical trials for your product, you should enact your Clinical plan at this point.
Phase 4 - Final validation, product tested and approved by competent authority
All data and documentation needs to be assembled ready for submission to competent authorities for product approval, including results from clinical trials..
This part of the process includes review and audit by notified bodies of technical file requirements listed by agencies such as the FDA and MHRA which you will need to legally launch your product in various territories. These include:
The Device Master Record (DMR) which is the definitive 'instruction manual' for the safe and compliant manufacture of your medical device.
The Design History File (DHF) which is the complete record of the way that instruction manual was designed and compiled in the first place.
The Device History Record (DHR), which is the demonstrable proof that you have used that instruction manual in the manufacture of your device.
The more easily this documentation can be produced by your teams the more quickly approval can be gained and you can get to market.
Phase 5 - Product launch and post launch assessment
Once you have approval for launch, you need to transfer your plans to your chosen manufacturer for production..
It's worth noting the quality of the QMS and DMS tools you have deployed throughout the development process will determine how easy it is for you to share your IP securely with an outside organisation in a seamless and error free way.
A good set of QMS tools will allow you to publish files to an Extranet where your manufacturing partner can access all the relevant documentation they will need to produce your product.
Following launch, your QMS will also need to be capable of capturing customer complaints and feedback, with a proper mechanism for triggering appropriate action (for example, product recall, incorporating new features for future releases etc)
Conclusion
This process of ideating, designing and developing a medical device is hugely complex, with many moving parts, documentation requirements and regulatory hurdles to overcome.
We have listed only a few of the processes and requirements integral to the five phases, but they all demonstrate how central good document management will be to your eventual success.
Implementing a Document Management Solution that can 'phase gate' each stage of your device development project, storing and collating documentation for approval by key stakeholders at key moments, can help you create a digital framework of constant commercial review.
It can bring structure and momentum to a large and sprawling project. It can bring a continual cycle of 'plan, act, do, check' into your working processes, that will record each stage of your journey for future audit, and help you manage all the commercial and regulatory risks such a project entails.
Having a well managed and fully auditable DMS will certainly help you gain ISO 13485 and meet the demands of regulators, but it will also bring a level of definition, order and efficiency to the five phases of development that will only improve your chances of commercial success.