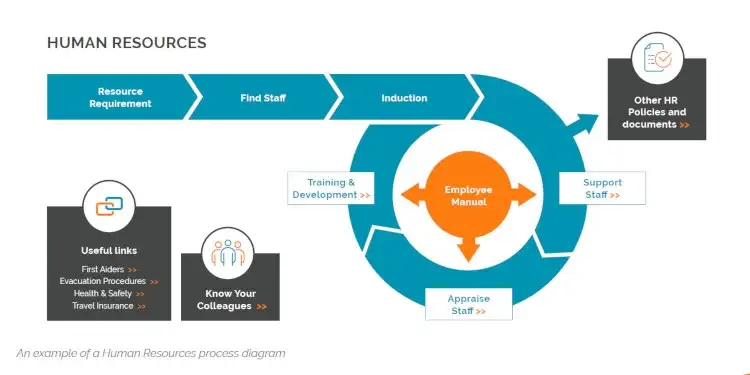 Documenting your SOP (standard operating procedures) can be a drag. It can feel unnecessary for a relatively small company. And done wrong, it can even feel like an exercise in futility - as everyone ignores them anyway. But this process is key to scaling up a business and may even be critical to gaining the certification or regulatory approvals vital to get a product to market.
What is a Standard Operating Procedure Document?
A Standard Operating Procedure document (SOP document) gives clear instructions to show teams how certain tasks should be carried out, in order to achieve standardised quality outcomes. They can exist as part of a digital DMS (Document Management System) that workers and other stakeholders can access for training, auditing and optimisation purposes.
A good set of SOPs captures the way your business carries out its tasks to achieve consistent quality in end products. They make sure best practice is understood, recognised and perpetuated across your business over time.
SOPs deliver repeatability, accountability and the power to perfect
Here are 8 solid reasons to document yours.
Setting down how certain tasks in a business need to be performed and making this information available and accessible within a searchable document management system, creates a 'single source of truth' - a permanent record of what best practice looks like. It avoids misinterpretation and the replication of non-conformities in end products as teams change and evolve.
The process of SOP documentation can help isolate issues or show up areas where processes are persistently going wrong. By investigating what is happening right now, collectively mapping out required operating procedures, then regularly auditing them, you can recognise where quality is habitually being compromised and keep identifying optimisation opportunities for the future.
When all employees are following the same processes, they can be measured against the same standards, and their performance fairly appraised. In addition, the documentation of SOPs makes it easier to predict, analyse and control the effects of all kinds of organisational changes.
When they are collectively observed, SOPs can help serve overall organisational goals; increasing efficiencies and reducing waste across the board, while recognising dependencies and ensuring smoother handover between tasks and departments.
SOPs improve communication and teamwork among workers and managers. Just the process of creating the SOPs in the first place can be a moment where an entire team is focused on defining and agreeing on what needs to be done as part of a task and the optimal way of achieving its objectives.
Training is obviously easier to carry out when you have documented SOPs. Documentation can operate as source material for managers to base their training programmes on, and for workers to refer to whenever they need help or clarification.
Lack of documentation makes you vulnerable. If a system relies on one person's version of best practice or a vague 'organisational memory' with no associated documentation, then it can be a disaster if that person leaves or other kinds of restructuring takes place.
With a reliable, documented set of SOPs, it's easier to comply with required external and internal audits of your best practice approach. And it's easier to make and implement the changes required following those audits. Because you can't change or improve a system until you have a system to change.
These are the well-rehearsed arguments for documenting your SOPs. And in an ideal world every business would be able to easily rise to this challenge to make their processes and procedures more understandable and repeatable.
But it can still be a tall order for a start-up or SME to focus on this task. Particularly in the face of other commercial priorities and the difficulties involved in writing and publishing them in a way that will actually help an organisation improve their performance.
7 tips for Documenting SOPs (Standard Operating Procedures)
Common pitfalls of SOP documentation
The common pitfalls of SOP documentation can quickly become apparent for those tasked with writing them. For example, incorporating too much (or too little) detail, using ambiguous language, or being so prescriptive that they become too complex and burdensome to follow.
Not to mention the creeping realisation that your SOPs will only be as successful as the tools which you use to publish, distribute and help implement their adoption across your organisation.
Graphical Business Management Tools help document SOP
Modern digital tools like a gBMS can help overcome these obstacles and give fast-growing businesses the edge as they begin to capture, document and optimise their Standard Operating Procedures.
Underpinned by a robust document management system these systems can operate as a central and highly visual repository for your 'organisational knowledge', which you can add to as your need for detail and focus in particular areas increases.
A Process-Driven Intranet drives engagement by visualising SOPs
A gBMS built using a process-driven intranet, can help you create a top 'layer' of interactive flow charts depicting the way all the different parts of your business fit together. This graphical layer can also store all the process maps that show the individual procedures that make up your entire business function, linking by URL to the supporting package of relevant SOP documentation.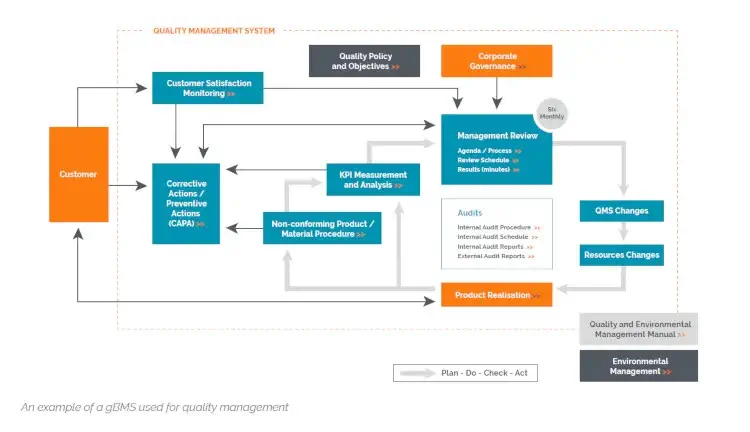 gBMS are easy to set up by non-coders. They can help growing businesses quickly create an accessible, digital framework for the storage of their SOP documentation, and build a visual representation of all the structures, procedures and dependencies which they depict.
In doing so, they can become a primary reference point for the whole business to return to when they want to confirm how things are done - or consider how they could be better optimised. They can support 'a risk based approach' to quality management, with the visualisation of processes helping businesses identify critical gaps in SOPs more easily than the linear approach of narrative documentation.
A gBMS provides several levels of engagement with your SOPs for people within a company:
Rapid 'at a glance' confirmation of the structure of each task
The holistic view of its place within the wider business process
The in-depth instructional document that fills in the detail.
The flexibility and scalability of these solutions mean they can grow with you. In the first instance, they can help you help you visually map out the fundamental business processes that define your operations. Then, as your need for greater clarity and focus increases, they can help you build out a comprehensive and auditable library of supporting SOP documentation. Step by step, at your own pace, a gBMS can help you systemise the way you run every aspect of your business.