We released CogniDox 8.7.0 over two weeks ago now.
There was a press release that talked about the headline features and I've previously blogged about document holders and what they are used for.
In this post I'm going to highlight some of the other changes. There are too many to cover individually, so I'll have to be selective in my coverage. As always with a CogniDox release we divide the change log into enhancements and bug fixes. There were 44 changes made as enhancements and 33 changes as bug fixes. That's 77 reasons to upgrade to the latest version.
Many enhancements (~40%) were directly proposed by end users and tracked in our issue/ticket tracking system. This ratio of user suggestions to internal ideas is important because it shows users are engaged with us. One lesson we've learned from our open source projects is user-led development is better than vendor-led development in most scenarios. (The worst is vendor-vs-vendor development - that way lies unwanted features and bloatware.)
There's no way to rank the new 8.7 features by priority, so here's a selection:
Category Tree Explorer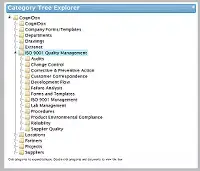 A new homepage portlet called 'Category Tree Explorer' is now available to users, by clicking on the Manage Portlets button and selecting it from the list of available portlets. This portlet provides an expandable view of the CogniDox category tree. Users may use this as an alternative to the standard Categories portlet as it allows the full category tree to be explored from the homepage.
Here's an example screenshot of the portlet:
Bulk Action
A new bulk action is available which allows the status of multiple documents to be changed in one go. Using the function, it is possible to obsolete / un-obsolete, freeze / un-freeze and publish / un-publish many documents at once. Users require the new 'Change the status of multiple documents' role in order to use this function.
View Policies
CogniDox provides a feature called 'View Policies' which allows a company to publish a document internally to all or selected employees and to collect acknowledgement from the reciprients that they accept the document. It's used to ensure that company policies comply with regulations required for example by SEC, SOX or HIPAA procedures. However, when a document with view policies was up-issued and approved, an email would go out to users asking them to accept the active view policies on the document. This wasn't quite what one of our larger companies expected or wanted to happen when the HR department corrected a minor error in a view policy document and thousands of users were emailed. Sorry about that. So now it's possible to configure a view policy on a document to have manual notifications. When a policy assignment on a document is manual, an administrator or view policy owner must specify which versions of the document generate a notification email.
Watermarks
CogniDox enables administrators to set internal user watermarks as an extra security measure. This imposes a background image (watermark) on the PDF version of the document e.g. "Downloaded by <name> (<login>) on <date>". From 8.7.0 this format can be over-ridden on a site-wide basis with the new 'PDF Watermark User Format' system configuration option. The format for internal watermarks applied to documents with a security profile can now also be overridden on a per-security profile basis.
Nagios Plug-in
We're fans of the Nagios (http://www.nagios.org/) network and application monitoring tool. It's another example of an open source success story. Now, IT staff can use a CogniDox-specific Nagios plug-in to monitor various aspects of the CogniDox system. The plug-in verifies that critical CogniDox files and directories do exist; that PDF and trigger spool directories are not over-flowing; that document relationships are being created correctly; that the database is available, and that other monitoring plugins are installed and configured correctly.
All CogniDox user companies will have received an email from us telling them how to download the 8.7.0 release from the Support website. There is also a useful video there (VI-402389-TM) showing the process of upgrading a CogniDox system from one release to another. It covers downloading an update, uploading the update onto the CogniDox server, extracting and then running the update.